Here are the best Real Estate Podcasts in 2021. A lot of things may hang at the back of your mind as you begin to explore the idea of becoming a real estate agent. True, it's not always a walk in the park, and there is more to it than wearing suits and posing for the camera in some neighbor's backyard with the sign "sold." It takes a whole lot of dedication, hard work, and some serious social and marketing skills to get to your first sale. Of course, we know you're not some loser who will simply let this behind-the-glamour reality stop you from taking actionable steps towards success. In this article, we've compiled 10 podcasts you should start listening to to help you get started on this journey.
We Found the Best & Top Rated Real Estate Podcasts for new agents in 2021.
1. The GaryVee Audio Experience (rated 4.9 on iTunes)
Host: Gary Vaynerchuk
1,707 Episode – New episode daily
Hosted by none other than THE Garyvee. Need we say more? His name itself is a selling factor and not putting him on top of this list is a crime! Enjoy the audio experience of the most followed public figure and fearless entrepreneur authority on social media as he talks about his fool-proof strategies.
Podcast episode to get you started:
November 10, 2020 – Your Safety Net Is Actually the Thing That Holds You Back
Length: 18 minutes
The gist: What blocks between you and your dreams? Your comfort zone. Sure, you may have started taking risks and getting good results, but you will never see your career shoot up unless you let go of that harness in your mind. "Safety net," "contingency plan," "fall back," "back-up plan." Call it whatever you want, but that only means one thing – your planning for failure when you should be planning for success. Change your mindset and start planning for an all-or-nothing wealth that will push you to greatness in 18 minutes. Sounds like something only a daredevil can do? Well, you cannot leverage your skills to build a life you want when you still let fear instead of freedom control you.
2. The Tom Ferry Podcast Experience (rated 4.8 on iTunes)
Host: Tom Ferry
624 Episodes – new episode daily
You can't spell "real estate" without the letters T-O-M F-E-R-R-Y. And if you don't know this guy yet, don't go to your next appointment without googling him first!
Dreams are just greatness bubbling inside you, waiting to burst out in the open. Do you believe that? The most famous real estate business coach, Mike Ferry, gives you the blueprint to unleash your full potential if you feel stuck on your journey. Tom doesn't just give you the knowledge you need in this industry but also the motivation, support, and tools you need to succeed. Enjoy his daily podcast as he takes you to a systematic approach to greatness. Start your Monday with a quick, 5-minute, or less pep talk to boost your mindset and motivation for the week. Follow up that drive with Tuesday's weekly TomFerryShow, where he discusses his networking tips and strategies. Enjoy Wednesday interview episodes called "Tom Ferry Podcast Experience," where you get in-depth business training from seasoned real estate agents. Finish the week strong with his Throwback Thursday episodes that talk about topics and issues from the past and what we can learn from them. Ready for your daily dose of greatness? Find him on iTunes and start paving your way to being a successful realtor!
Podcast episode to get you started:
Oct 29, 2020 – 3 Steps to Help You Make Your Calls
Length: 13 minutes
The gist: Do you have the discipline to consistently make your calls? Are you held anxious every time you hit that dialer, thinking this is going to be another bunch of leads angrily hanging up on you? Do you find cold calling such a chore? Listen as Tom shares his experience in overcoming apprehensions and booking more appointments. Hint: he was once like you too!
3. DreamNation Real Estate Podcast with Casanova Brooks (rated 5.0 on iTunes)
Host: Casanova Brooks
15 Episodes – 2 new episodes weekly (Mondays and Wednesdays)
The DreamNation Real Estate podcast is the perfect platform for realtors, brokers, and investors to get started. Each episode features tips and strategies from seasoned realtors from diverse backgrounds and expertise to help starting agents with zero experience get in this fast-paced industry in no time.
Established by Casanova Brooks, a leading real estate agent and investor, motivational speaker, and the DreamNation community founder, this podcast is founded around a community where all the new agents can freely explore and make their dreams a reality. This makes the perfect place for new agents to venture and build their market from the ground up. It also provides the ideal platform for seasoned agents to expand their market as they hone others to level up. What you'll love most about this podcast is how Casanova manages to provide a world of comradery amidst the extremely competitive real estate market in the United States.
Podcast episode to get you started:
October 26, 2020 – DNRE11: How To Use Your Voice In Real Estate
Length: 13 minutes
The gist: This episode's podcast guest is someone who can relate to all the hardships a typical real estate agent can relate with. Bryan Casella shares exactly the perfect tools to build your network on. He also talks about the strategies that may seem effective at the beginning but can only hurt you in the long run. He also talks about how he trained his mindset for success and how to harness that consistency even on days when energy and motivation just won't come to you.
4. Real Estate Uncensored (rated 4.8 on iTunes)
Host: Greg McDaniel & Matt Johnson
100 Episodes – new episode weekly
If you are the type who has so many ideas in mind but doesn't know where to begin, this is the perfect real estate podcast for you! Turn your insight and inspiration into action and concrete results with the cozy blend of honesty and fun in this weekly talk show. Know how to manage the sacred trinity of next level prospecting, sales, and marketing strategies that will earn you cold hard cash. Every episode features an interview with real estate authorities like Aaron Wittenstein, Brett Tanner, Jehh Cohn and many more. This show will help you leverage your prospecting calls and put a personal and effective touch on your scripts that will get you 500 homes sold within a year. This is the podcast that shows you just exactly how to grow your real estate business so you can go from being an aspiring agent to a successful real estate professional.
Podcast episode to get you started:
October 21, 2020 – How to Get Referrals Without Asking for Them w/Stacey Brown Randall
Length: 50 minutes
The gist: If you're struggling with getting listings via referrals, worry not! All agents go through that. This episode will teach you 3 things that will prove to be a game-changer – (1) the reason why you should be picky with your referral sources, (2) what questions to ask your past clients, and finally, (3) how to respond when you get the referrals. Since many agents hold back from leveraging through referrals for the fear of asking, Chief Referral Ninja Master Stacey Brown Randall discusses exactly how to avoid asking for better results. Skeptical? Makes sense because how are you going to get referrals without asking for them? Listen to this mind-blowing episode to understand the proper approach to referrals. Hint: this isn't marketing or prospecting so don't treat referrals that way!
5. Zero to Diamond Podcast (rated 5.0 on iTunes)
Host: Ricky Carruth
380 Episodes – New episode daily!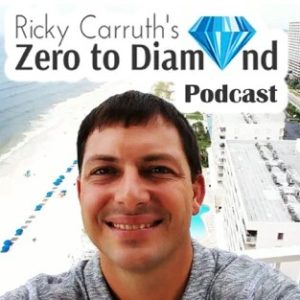 Listen to this warm-hearted real estate coach – Ricky Carruth, the top 1 real estate agent in the gulf coast for over a decade, as he explores the podcast platform to help aspiring real estate agents do exactly what he does – sell more than a hundred properties yearly. This is not your typical real estate marketer so don't say we didn't warn you. Many say his strategies are unconventional. But that's exactly why he gets the results many couldn't. Ricky is someone we can vouch for but don't take our word for that. Go see for yourself why he is our cup of tea.
Podcast episode to get you started:
November 11, 2020 – What Most Agents Sound Like (don't do this)
Length: 16 minutes
The gist: If you have been giving you all in marketing but still not getting satisfying results, chances are, you are not meeting your clients halfway and you are not carrying yourself the way you think you do. Know from a client's perspective how you sound like and compare your expectation to reality. This episode will help you troubleshoot your strategies from prospecting calls to in-person appointments so you can turn your leads into listings.
6. Best Real Estate Investing Advice Ever (rated 4.8 on iTunes)
Joe Fairless
1,999 episodes – New episode daily
Joe Fairless claims he has the best real estate market advice ever. We think he has every right to say so otherwise he wouldn't be the world's longest-running daily real estate podcast. This is typically made for investors and as an aspiring real estate agent, you would want to get your footing on this demographic. Know what your best clients look for so you can give them what they want in your terms.
Podcast episode to get you started:
November 12, 2020 – 11 Questions From Tribe of Mentors
Length: 34 minutes
The gist: You don't have to read the popular Tim Ferris "Tribe of Mentors" book but to get on this episode. Just relax and listen to this 34-minute talk show to know the basics of passive investments and learn exactly what your clients would look for as they venture on to real estate investments. Bonus: You might as well end up doing the same for your side-hustle too!
7. Real Estate Rockstars (rated 4.6 on iTunes)
Host: Aaron Amuchastegui, Pat Hiban
709 episodes – 3 times weekly
How do you know something is credible? Reviews. So let's begin our list with the most downloaded real estate podcast from over 100 countries. Real Estate Rockstars has had more than 4 million downloads with over 700 episodes! Each episode of this tri-weekly podcast show features realtors from all shapes and sizes, from newbies to seasoned brokers, who openly share their victories and defeats, doubts and courage,and all the nuggets we can sift from their expertise in this industry. Let the hosts Aaron and Pat take you to some crazy and unfiltered interviews as they ask straightforward, no cliches questions to help you implement actionable strategies to level up your career, no matter what stage you are in right now.
Podcast episode to get you started:
Oct 28, 2020 – Make $1 Million in Real Estate with the 10x Rule
Length: 35 minutes
The gist: An internationally renowned public speaker, sales guru, and best-selling author Grant Cardone reveals how real estate agents can make their first million with what he calls the "10x rule." In this episode, you'll learn which milestones and stumbling blocks to watch out if you want to be seriously rich in the field of real estate.
8. Real Estate Coaching Radio (rated 4.2 on iTunes)
Hosts: Tim and Julie Harris
100 Episodes – New episode daily
Everyone claims they are the best. Only few can actually back their words with actions and results. Tim and Julie Harris are among the few. Let's talk about credentials first: this is a podcast show widely recognized by the largest media authorities – Google, Inman News, The Motley Fool, to name a few – as among the most influential real estate podcasts. Listen as this power duo explores the undergrounds of the real estate industry and shares how you can top your way from the bottom while making loads of money and spreading your influence.
Podcast episode to get you started:
November 15, 2020 – Are You Feeling Overwhelmed and Stressed Out? (Here Is Your Proven Solution)
Length: 37 minutes
The gist: Stress – We all go through this phase several times in our career. The year 2020 has especially made us all weirdly exhausted with our hampered freedom or lack thereof. Like most of us, you may be facing this all new unfamiliar existential crisis that strains your drive and enthusiasm. In this episode, Tim and Julie talk about how you can overcome this emotional baggage with their 20-step actionable plan to gear up your career and start 2021 on a strong and more positive note.
9. Rental Income Podcast With Dan Lane (rated 4.8 on iTunes)
Host: Dan Lane
274 Episodes – New episode every Tuesday
Real estate investors are a special kind of clients in the pond with whom agents have diverse opinions about. This podcast show talks highlights the real estate investment business from the landlord's perspective. Every episode features special interviews with rental property investors that will help agents understand how to communicate with them. Dane Lane speaks with guests about how they generate income and the issues they face so that you as a real estate representative would know how to make business, nurture long term relationships, and open more doors of opportunities with them.
Podcast episode to get you started:
September 3, 2020 – Bonus: Update On Mortgage Rates & New Mortgage Tax
Length: 8 minutes
The gist: This is a quick 8-minute talk with Caeli Ridge, owner and CEO of Ridge Lending Group with 20-year experience as a lender and investor. In this episode, Ridge talks about investment mortgage rates, mortgage taxes and everything investors and their agents should be aware of.
10. Massive Agent Podcast (rated 4.9 on iTunes)
Host: Dustin Brohm
152 Episodes – New episode every Thursday
Dustin Brohm, who earned his credential as a speaker at Gary Vee's Agent 2021 event, explores various actionable strategies for realtors and mortgage lenders to secure a huge following on social media and expand their network outside the parameters of traditional marketing approach.This Inman speaker, blogger and Salt Lake Insider host gets on the world of podcasts to extend his effective coaching strategies to everyone who is yet to start their financial and lifestyle journey as a real estate professional. Every episode highlights one business marketing strategy and how you can utilize it to sell real estate properties.
Podcast episode to get you started:
October 15, 2020 – Exactly What Realtors Should Post on Social Media Each Day
Length: 39 minutes
The gist: Need we say why you need to hear this? You can't just go and post daily inspirational quotes on instagram and flood your Facebook with a bunch of listings in the market. Social Media is an art and you need to understand the diversity of your demographic in order to reach the interest of your target audience.
11. You seriously don't need another one. These real estate podcast shows are more than enough to get you motivated and equipped with the right tools to get yourself out in the open and explore the world of economic freedom as a realtor. Go and start listening to greatness and start building the life you want already! And if you're already on this track, hit the comment section below and tell us what you think about this list.