"IF YOU CAN DREAM IT, YOU CAN DO IT."
Hi! I'm Casanova and this is DreamNation Podcast.
Join me as your host and my industry expert guests in Mindset, Business, Marketing & more, we'll discover how to build financial freedom and a life by YOUR design!
DreamNation aims to provide entrepreneurs and change makers like YOU a "bridge" to the top mentors and resources to achieve your dreams!
Do you know the Core Strategies needed to create Financial Freedom and live your life by your design? Join hundreds of successful entrepreneurs in growing their careers, one episode at a time!
We Host The BIGGEST Dreamers & Doers Of The World...
Want A Sneak Peek Inside?...
Casanova Brooks on his "Ready, Fire, Aim" mindset and why it works.
"…I don't wanna put myself into 'paralysis of analysis'. That means that I'm not taking as much action as I am consuming the content…"
Latest DreamNation Episodes
Here's a snapshot of a few things we talked about… 00:00 Introduction 02:12 Who is the Clark Kent, When it Comes to Dustin Heiner? 11:21 Why Did He Choose Real Estate Investing? 15:31 How to Get Your First Investment Property? 22:58 What Are His Criteria for Investing in Properties? 26:47
Listen to full episode >>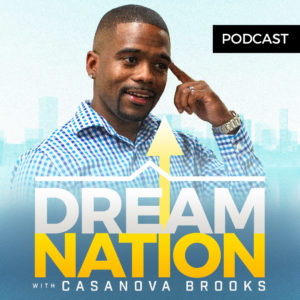 In this age of social media, it's very easy to fall in the trap of comparison. To consider someone else a "Peak Performer" and to overlook our own achievements in our own environment and circumstances. I wanted to make this episode for you in case you're in this situation, to
Listen to full episode >>
In this episode, Casanova talks with Dr. Fred Moss a Mental Health Coach. Fred is someone who constantly works on realizing, exploring and embracing both the pain and the beauty of life, while wondering how and what he is going to do next to make a difference. He talks about
Listen to full episode >>
Casanova is an award-winning author, high-energy keynote speaker, entrepreneur, and host of the DreamNation Podcast
Engaging, inspiring, and authentic-Casanova is passionate about helping people and showcasing how building a bulletproof mindset & meaningful relationships can help anyone succeed in Life and in Business.
He's committed to bringing in top performers from different industries to discuss a wide a wide-range of topics that educate, inspire, and deliver results. Listen to the Dream Nation Podcast for exclusive content and success strategies rooted in real-life experiences and stories from the front lines.
Enjoy A Full Experience of