Looking for Black Podcasts hosted by black entrepreneurs and thought leaders? Well, we've rounded up this top 30 Black podcast list so you don't have to! Now all you have to do is click on the links and start listening to their episodes. Enjoy!
#1: The Model Health Show
Host: Shawn Stevenson
Genre: Nutrition
Fun, entertaining, and informative—the Model Show is one of the best Black podcasts you should check out if you're interested in health and fitness. No topic is taboo, so whether it's about sex, diet, exercise, sleep, hormones, or whatever health topic you can think of, the Model Show has an episode about it. Hosted by world-renowned author and nutritionist Shawn Stevenson, this podcast keeps things easy to understand to help you make sure that you're living your best and healthiest life.
#2: Redefining Wealth
Host: Patrice Washington
Genre: Spirituality
Wealth is not just about the money itself. It's a mindset that results in well-being. And in this Redefining Wealth podcast, award-winning personal finance author, international speaker, and media personality Patrice Washington talks about how you can achieve that wealth mindset and manifest the abundance you deserve. Each weekly episode also features enlightening interviews with podcast guests on how you can live your life's purpose, find fulfillment, and earn more without having to chase after money. If you're looking for someone who can help you live abundantly the right way, you have got to listen to Patrice in this podcast.
#3: DreamNation Podcast
Host: Casanova Brooks
Genre: Entrepreneurship
Have you ever felt as if you've hit rock bottom? Maybe you've lost everything you once had and you're so close to giving up on your dreams. Well, you found yourself a podcast that will inspire you to keep going. Hosted by award-winning author Casanova Brooks, the DreamNation podcast is made for dreamers like you and covers proven mindset, marketing, and relationship secrets to help you turn your dreams into reality no matter how desperate your current situation may seem. Featuring top industry leaders who bring in their expertise to the show, each episode in this top-rated Black podcast is a reminder that your success and personal transformation is just a few steps away.
#4: Black Girl Podcast
Hosts: Scottie Beam, Gia Peppers, Sapphira, Bex, and Alysha P
Genre: Society and Culture
Now here's a new audio series that we're sure you'll love. Hosted by friends Gia, Scottie, Sapphira, Bex, and Alysha, this Black Girl podcast features fun conversations on life issues, sisterhood, pop culture, love, personal growth, and the pursuit of dreams. Each episode is a mix of opinions, insights, and life stories to help you understand yourself (and the world around you) a bit better. Don't forget to tune in weekly for fresh new content!
#5: Straight Up w/ Trent Shelton
Host: Trent Shelton
Genre: Self-improvement
Hosted by Trent Shelton (who is by the way already 12 million followers strong on social media), the Straight Up podcast tells you what you need to know straight up—even if it's a hard pill to swallow. In each episode, Trent brings in his powerful and honest perspective on various issues. So if you're looking for motivational content that goes straight to the point and to your heart, this is the podcast for you.
#6: Brown Ambition
Hosts: Mandi Woodruff and Tiffany Aliche
Genre: Careers
Need help striking the balance between your personal life and career? How about building wealth on your own terms? Well, the Brown Ambition podcast covers these questions and more! Hosted by former personal finance reporter Mandi Woodruff and award-winning financial educator Tiffany Aliche, this podcast talks about all you need to know to make sure you hit your financial goals in no time and without sacrificing the things that matter the most to you. So if you're interested in all things finance, make sure to check this podcast out.
#7: Earn Your Leisure
Host: Rashad Bilal and Troy Millings
Genre: Business
Here's another awesome Black podcast to add to your playlist! Hosted by Rashad Bilal and Troy Millings, the Earn Your Leisure podcast gives you insider access to what goes on in the backend of big companies in the entertainment and sports industries. And we're talking about seeing how these companies go about making big money. Plus, you'll also learn the backstories of some of the world's most successful entrepreneurs and learn about the most effective strategies and latest trends in the world of business and finance. This Black podcast is worth checking out!
#8: The Courtney Sanders Show
Host: Courtney Sanders
Genre: Careers
The Courtney Sanders Show, which is also more formally known as "The Think and Grow Chick Podcast" is hosted by the top millennial speaker and women's empowerment coach Courtney Sanders herself. Featuring crucial topics such as entrepreneurship, lifestyle, finances, personal growth, and spirituality, this podcast is an interesting mix of personal stories, experiences, and insights guaranteed to empower you to achieve financial freedom.
#9: Million Dollaz Worth of Game
Host: @GillieDaKing and @Wallo267
Genre: Music Commentary
If you're looking for a music commentary that presents an interesting blend of music, real-life issues, personal experience, honest advice, and comedy, look no further. The Million Dollaz Worth of Game hosted by rapper/actor @GillieDaKing and social media influencer and disruptor @Wallo267 delivers all that. Stream the podcast today to get access to their informative and entertaining content!
#10: The Secret To Success
Host: Eric Thomas Ph.D.
Genre: Self-improvement
Need more inspiration to fuel your dreams? Then this podcast is sure to get you all fired up. Hosted by Eric Thomas, a homeless high school dropout turned entrepreneur and C.E.O (plus a Ph. D. too), the Secret to Success podcast talks about how anyone equipped with the right mindset and knowledge can single-handedly break out of any financial rut. So if you want to change your life this is the podcast you need to tune in to.
#11: Yes, Girl!
Hosts: Cori Murray and Charli Penn
Genre: Society and Culture
Hosted by Cori Murray and Charli Penn, the Yes, Girl! podcast gives you your fill of celebrity interviews, pop culture, plus an unapologetic perspective. This is the weekly podcast you need to tune in to if you want to hear great content covering Black culture.
#12: The Joe Budden Podcast
Host: Joe Budden
Genre: Music
Here's another great Black podcast to tune in to if you're a serious fan of music. Hosted by Joe Budden and his friends Rory and Mal, the Joe Budden podcast features all their crazy adventures, plus good music, of course. Don't forget to check this podcast out!
#13: Side Hustle Pro
Host: Nicaila Matthews Okome
Genre: Entrepreneurship
Hosted by a pro side hustler turned full-time entrepreneur Nicaila Matthews Okome, the Side Hustle Pro is your ultimate resource detailing how you can build a full-blown business from scratch. In this top-rated Black podcast, you get to hear from inspiring black women entrepreneurs who will tell you all the actionable steps you need to take so you can start small and get going wherever and whoever you are. New episodes premiere each week so make sure to check the podcast out!
#14: His & Her Money
Host: Talaat and Tai McNeely
Genre: Investing
Need solid advice for your investments? This podcast can help you out. Hosted by Talaat and Tai McNeely, the His & Her Money podcast features episodes that cover a wide range of subjects starting with debt elimination, money-saving strategies, budgeting techniques, credit repair, and so much more. The ultimate goal is to help you build wealth and live a life completely debt-free. Sounds interesting? Then you better stream the podcast now!
#15: The Spectacular Experience W/ Spectacular Smith
Host: Spectacular Blue Smith
Genre: Entrepreneurship
Tune into the Spectacular Experience podcast with your spectacular host Spectacular Smith. (That's a lot of spectacular!) Spectacular Smith is a social media guru, keynote speaker, entrepreneur, and best-selling author, and his podcast shares business insights from a CEO's perspective. Featuring notable entrepreneurs, speakers, artists, and athletes, this podcast is geared towards helping you outperform, outwork, and ultimately out-hustle your way to the top.
#16: Hotboxing w/ Mike Tyson
Host: Mike Tyson
Genre: Society and Culture
Change the way you see the world with this Black podcast hosted by Mike Tyson, the 'baddest' man on the planet who goes on the show with the world's most fascinating minds, celebrities, and athletes. Add in his millennial sidekick Eben Britton and you're in for a ride straight to the heart of current issues that are impacting us all today. If you need to listen to some real talk, this podcast is the real deal.
#17: Black Wealth Renaissance
Host: Black Wealth Renaissance
Genre: Business
Here's another Black podcast on our list that you should check out. Produced by the Black Wealth Renaissance Network, this podcast provides helpful resources and tips to help you attain and maintain generational wealth and at the same time normalize black wealth.
#18: Rants & Randomness
Host: Luvvie Ajayi
Genre: Society and Culture
Tune in to this podcast to join host Luvvie Ajayi as she rants on pop culture plus business. Delivered in her usual charismatic, no-nonsense approach, the Rants & Randomness podcast episodes will keep you wanting for more of Luvvie's fun inputs and random gems from her all-star guests who grace the show with their presence. New episodes of the podcast premiere weekly so make sure you're tuned in!
#19: Aww Shift
Host: Anthony Trucks
Genre: Mental Health
Are you ready to make the shift towards success? In this Black podcast hosted by Anthony Trucks, you'll understand the critical role that major identity shifts play in any success or failure, and figure out how to navigate through them. Featuring top thought leaders in the world today, the Aww Shift podcast covers stories, insights, and ideas on how to handle these shifts like a pro.
#20: The Millionaire Mindsets Podcast
Hosts: Xavier Miller and Deanna Kent
Genre: Business
Building wealth all starts in the mind, and this is what entrepreneurs and investors Xavier Miller and Deanna Kent talk about in the Millionaire Mindsets podcast. Featuring top guests from virtually every industry, this podcast aims to promote financial literacy and personal growth to the millennial market and covers essential topics such as entrepreneurship, investing, personal growth, and more.
#21: All the Smoke
Hosts: Matt Barnes and Stephen Jackson
Genre: Basketball
If you're a big fan of basketball, this is the podcast for you. Featuring two of the most outspoken and controversial NBA stars Matt Barnes and Stephen Jackson, All the Smoke podcast dishes the latest news and drama on and off the court. Keep yourself posted on new episodes that premiere each week to get firsthand insight into the minds and lives of today's players.
#22: The David Banner Podcast
Host: David Banner
Genre: Society and Culture
Looking for a podcast that will push your thinking and make you laugh at the same time? David Banner's podcast is what you're looking for. Covering topics that liberate the mind, this podcast moves you to disrupt the status quo. Stream the podcast each week for new and insightful episodes!
#23: Through The Wire – Bleacher Report
Hosts: Kenny, Pierre, Mike, and Darrick
Genre: Basketball
Can't get enough of basketball? Then we've got another podcast on this list for you. Hosted by Kenny, Pierre, Mike, and Darrick, Through the Wire podcast is the show you should tune in to whether you're just a casual basketball fan or a die-hard one. Just make sure you don't miss any episode coming in twice a week!
#24: Getting Grown
Hosts: Jade and Keia
Genre: Society and Culture
Trying to figure out how to "adult" for real? Well, these lovely girls got your back in their podcast, Getting Grown. Hosted by Keia and Jade, this podcast features segments that cover various topics starting with their Kitchen TableTalk, Petty Peeves, and Lessons in Black Women Self Care. So if you're feeling lost in your life journey, you better start streaming this podcast right now.
#25: The Read
Host: Kid Fury and Crissle
Genre: Comedy
Hosted by bloggers Kid Fury and Crissle, The Read podcast is your weekly dose of comedy to help get you through each week. Covering hip-hop and pop culture's most trying stars, this podcast delivers on-air therapy sessions (while making sure you have fun) for these two friends who are trying their best to adjust to living a life in the big city. Tune in to the show for more fun!
#26: The Nod
Host: Gimlet Media
Genre: Society and Culture
This is the podcast where you get to hear stories of the Black life that you'll never get to hear anywhere else. Featuring the genius, the innovation, and the resilience of the Black people and their culture, this podcast is definitely something worth tuning in to. New episodes premiere each week so stay posted!
#27: The Casey Crew
Host: DJ Envy and Gia Casey
Genre: Kids and Family
Tune in to the Casey Crew show hosted by DJ Envy and his wife Gia Casey, and join them as they explore the good and the bad of relationships and family. Featuring real-life experiences, solid advice, and in-depth interviews with celebrity couples, this is the podcast you need if you want real talk on what married life is like.
#28: Larry Wilmore: Black On The Air
Host: Larry Wilmore
Genre: Society and Culture
Here's one more awesome Black podcast you should be listening to—Larry Wilmore's Black on the Air. Hosted by the Emmy Award-winning producer, actor, and comedian himself, this podcast features the latest social issues and interviews guests hailing from different sectors of society. Whether it's politics, entertainment, culture, or sports, this podcast has you covered! Make sure you don't miss an episode!
#29: Oprah's Super Soul Conversations
Host: Oprah Winfrey
Genre: Society and Culture
It's time to discover your truest potentials and connect to the deeper meaning of the world around you. In this Super Soul Conversation podcast, Oprah Winfrey features her curated interviews with some of the world's top thought leaders, best-selling authors, health and wellness experts, and spiritual luminaries, to guide you in your journey towards a grander purpose. Tune in to the podcast today and get one step closer to the best version of yourself.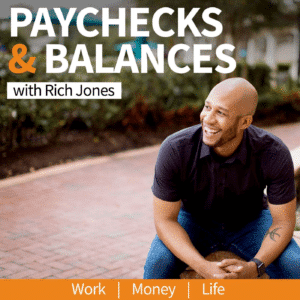 #30: Paychecks & Balances
Host: Rich Jones
Genre: Careers
We're ending this list of top Black podcasts with the one hosted by Rich Jones, a speaker and founder of the multimedia platform Paychecks & Balances dedicated to helping millennial professionals navigate their finances and careers. The Paychecks & Balances podcast was built with the mission to inspire and empower millennials like you to create the freedom you deserve and live life debt-free. Each episode is filled with powerful information and solid financial advice delivered in a down-to-earth and relatable manner. If you need to get your finances (and your life) under control, then you should tune in to this podcast.