Your black genes have this burning potential this world has been suppressing for ages. But not anymore. Here's a compilation of fantastic podcast shows by black people to motivate you to come out and share your voice with the world. Because in case you need a boost, you've got a band of unsilenced, loud, black voices to inspire and entertain you.
Here you go!
Top #10 Black Podcasts You Should Tune In To 2021.
No. 1: The Daily Show with Trevor Noah: Ears Edition
Host: Trevor Noah
Genre: Comedy, current events, society, and culture
830 episodes – new episodes several times daily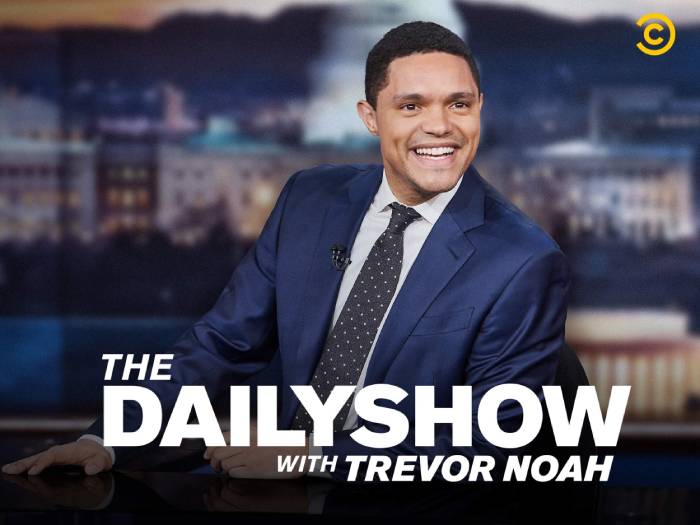 How do you deal with the inconvenient truths of the world today? Maybe a better question would be, do you ever deal with them, or you simply hide under your covers hoping those monsters don't hunt you? If the latter holds true, you should listen to someone born from the prejudice that existed in the time of South African apartheid as a half African, half Swiss, and full-blooded comedian. So much about the host's introduction. If you don't know Trevor Noah, come out of your cave and get woke! Actually, don't. You don't have to risk catching Covid19 because woke is just on your fingertips, literally! Tune in to The Daily Show With Trevor Noah: Ear Edition as he hilariously unpacks religion, societal changes, and the problematic cultures of humanity.
Why would you want to listen to this show?
It doesn't matter whether you're a democrat, republican, a doggo who only loves belly rubs, or a cat on your human's kitchen countertop. Trevor Noah is incredibly funny while keeping you updated about what's going on in the world. With all the heavy news lately, his comedic banter will make everything easy to hear and digest. Whoever does not find him funny will be sued for not having a sense of humor!
Podcast episode to get you started:
September 8, 2020: ICYMI – If You Don't Know, Now You Know
Length: 20 minutes
Description: Trevor's random coverage of news stories about The Democratic National Committee, Republican National Committee, the hottest day in Death Valley, why Americans prefer Fahrenheit while the rest of the world uses Celsius, and Laura Looming winning in the GOP.
Featured one-liner: "Don't get me wrong. I'm not saying we should not get rid of mosquitoes 'cos I hate them. I hate mosquitoes. I hate getting bitten by them! I hate getting irritated by them! But the one thing I will miss is when they fly next to your ear at night coz I always felt like I am getting a private Al Green concert." – Trevor Noah
No. 2: Redefining Wealth with Patrice Washington
Host: Patrice Washington
Genre: Self-reflection
172 episodes – new episode every Thursday
The Redefining Wealth Podcast is more than just a podcast show. It is a community created for those who believe that wealth is not only about money and material possessions; it is about the sense of self-satisfaction that comes from happiness and contentment. This award-winning personal finance author, international inspirational speaker, media personality, and your future podcast best friend, Patrice Washington, shares her wisdom from personal experiences and nuggets of insight from her guest interviews with successful individuals. This community aims to motivate people that wherever you are in your journey to success, you can always discover personal satisfaction while maximizing earning at the same time without having to think about money. Put it simply, Patrice understands that prosperity is more than just your net worth. Prosperity is acquiring core values that center on gratitude and the clarity of your purpose in life because where wisdom flows, money follows. As her tagline says, 'Chase purpose, not money!'
Why would you want to listen to this show?
Patrice deals with social issues and inconvenient human tendencies with authenticity, empathy, a burning vibe, and a dash of healthy humor. What you will love most about this show is that it pushes you to face your personal monsters and helps you overcome each of them with every episode.
Podcast Episode to get you started:
October 1, 2020: What's Still Possible?
Length: 32 minutes
Description: This episode talks about how to live your life at this time of the pandemic.
Featured one-liner: "2020 isn't canceled, and your calling hasn't been canceled. The pandemic hasn't postponed your purpose." – Patrice Washington
No. 3: DreamNation Podcast
Host: Casanova Brooks
Genre: Entrepreneurship
100 episodes – 2 new episodes every week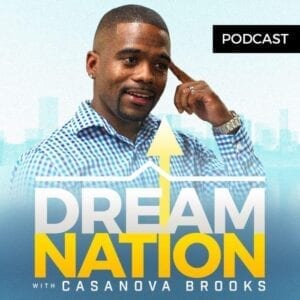 Enjoy interview portions with industry experts about their attitude, marketing, and relationship secrets that paved their way to their dream life. Your road to personal and financial independence begins here. Build the perfect lifestyle on your terms – precisely what you desire and deserve, regardless of what society thinks it should be. Listen, as Casanova himself shares his personal "Power Book" of strategies for building a lifestyle tailor-fitted to the desire of your heart. Learn from the man himself – a stage 4 cancer survivor who lost everything – his work, his mom, his home – while crafting freedom on his way out of tremendous hurdles.
Why would you want to listen to this show?
If you agree that you are the average of 5 people closest to you, you should be a part of The DreamNation community. Casanova's podcast show is how you get yourself started. DreamNation is a story of the creation of success itself. It aims to help individuals find their rightful place in this society by helping each other reach the best version of ourselves. Casanova Brooks, an award-winning real estate agent, investor, speaker, and CEO, sure earns the freeness of speech in talking about the definition of success and how to get there. With DreamNation, you are just a few steps away from your self-upgrade and personal transformation.
Podcast Episode to get you started:
October 15, 2020: Episode 140 – Dean Graziosi: How To Turn Obstacles Into Opportunities
Length: 46 minutes
Description: A multiple New York Times best-selling author, serial entrepreneur, and investor – Mr. Dean Graziosi shares his secret in utilizing obstacles and the benefit of not flaunting human vulnerabilities out in the open.
Featured one-liner: "Something about being vulnerable. Really just helps you self identify, who you really are, and what your values are." – Dean Graziosi
No. 4: The Chris Hogan Show
Host: Chris Hogan
Genre: Investing
100 episodes – New episode every other day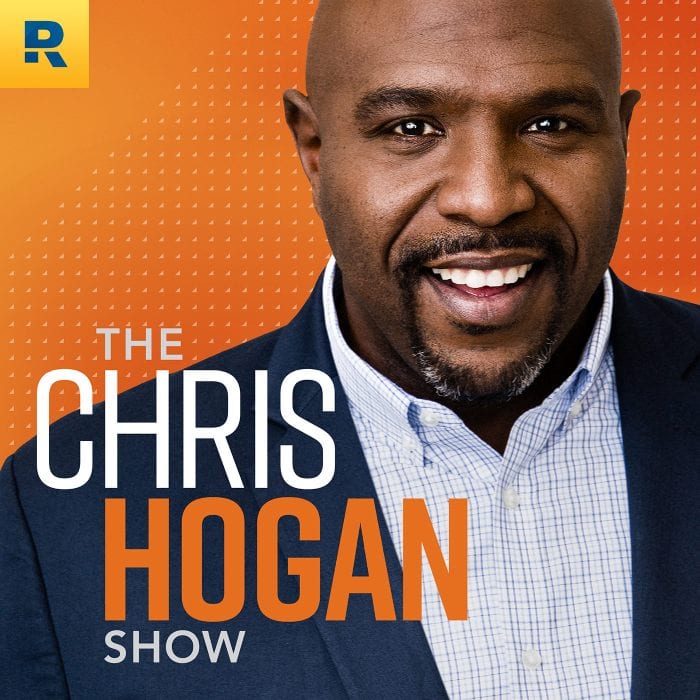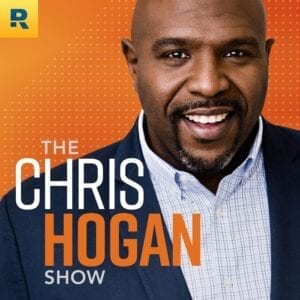 "The Chris Hogan Show" gives the most sensible solutions for your financial literacy. Chris Hogan's voice is among the few American authorities on retirement, charity, investments. This show provides a step-by-step guide to listeners on their journey to financial freedom that doesn't stop even when one becomes a millionaire.
Why would you want to listen to this show?
Every episode will help you stay focused and keen on your finances that will have a lasting impact not only on your wealth build-up but also on all the other areas of your life. One of Chris' best episodes deals with the effects of retirement and how it should springboard you into the best life you have yet to experience. Learn how to focus on the journey and not the outcome and discover the value of keeping up with your net worth calculator for your overall well being.
Podcast Episode to get you started:
October 9, 2020: Are You Ready to Pay Off Debt FAST?
Length: 49 minutes
Description: Chris talks about paying and the very mindset that gets people in a snowball of debt and how to avoid it. In this episode, he emphasizes why taking care of your finances is more of an attitude issue than a financial dilemma.
Featured one-liner: "We're either getting better or getting worse—nothing stays the same." – Chris Hogan
No. 5: Scam Goddess
Host: Laci Mosley (a.k.a. Scam Goddess)
Genre: Business
52 episodes – New episode every Monday
Scam Goddess host Laci Mosley and her weekly guests talk about the fascinating world of fraud and bring you to the swindlers' logic of money-making. Call this weird. The goal, though, is not to celebrate scammers but to show the flaw of our society and avoid being the victim. While it may be saddening to see how the podcast highlights the different facets of human greed, Scam Goddess herself takes on a funny approach to it all to help you laugh your way out of gullibility!
Why would you want to listen to this show?
You'll love this lady! Laci is that funny and witty sister everyone wishes to have. Every episode takes you on a hilarious and brutally honest journey of the different coverups of fraud. It will keep you educated on crime, so the next time you get a fraud call, you can sing to this podcast theme song before hanging up because that's the classiest way to make sure you're not getting scammed again!
Podcast Episode to get you started:
September 28, 2020: The (Not So) Charitable Cheat with Gaby Dunn
Length: 1 hour 10 minutes
Description: Two of the sassiest, wittiest, and most authentic girls in the world of podcasts, Lacy Mosely and New York Times best-selling author of the book "I hate everyone but you!", Gaby Dunn, on their insight about the donations Donald Trump has given to charity. So much to learn about the uncomfortable truths behind charities and why you should have a break-down of where your donation money really goes to make sure every penny counts.
Featured one-liner: "They launder through art. That's a very easy way to launder money."
– Gaby Dunn
No. 6: ExpediTIously with Tip "T.I." Harris
Host: Tip "T.I." Harris
Genre: Society and Culture
87 episodes – new episodes every week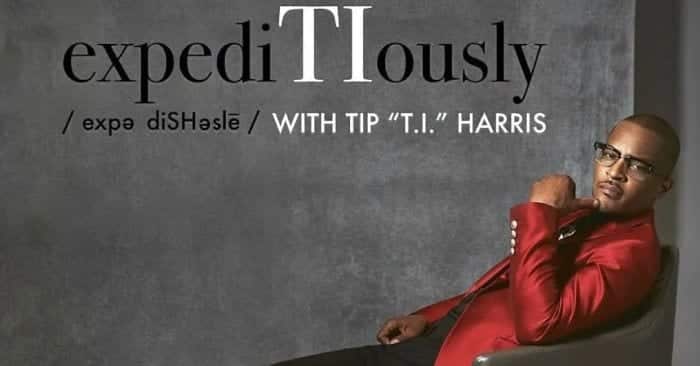 Every episode features an in-depth interview with renowned individuals who fearlessly tackle current events and how history has pulled strings behind the curtain that got us all here. The conversations revolve around random discussions with a common denominator – man may have been guiding man to his injury. However, there are still so many things that can be done to undo the damage.
Why would you want to listen to this show?
Nothing knows society and culture better than a person who has dealt with people from all walks of life. Tip "T.I." Harris – an entrepreneur, philanthropist, social activist, rapper, and certified family man, will help you confront society and cultural realities to better deal with human behavior evolution. Whether you're a master of anthropology running for politics or you just want to understand precisely why the Karens are still breeding, T.I. has all the answers to your questions! Another bonus is if you're looking at enhancing your English vocabulary either for a college interview or simply to impress your Tinder date, you're in for a treat. ExpediTIously with Tip "T.I." Harris episodes are sure to make you want to grab and hold on to that dictionary from start to finish!
Podcast Episode to get you started:
September 05, 2020: Ice Cube- A Contract with Black America
Length: 54 minutes
Description: This is an interview episode with Hip Hop icon and activist Ice Cube about achieving racial and economic justice in America. From presidential elections to the behind-the-scenes roles that big corporations play in the country, understand how every individual may be personally affected by everything going on in our society and what you can do to make a difference.
Featured one-liner: Life is about leverage…Ain't nobody just do none for you just our of sh*t. It's gonna have to be about leverage.
No. 7: The Patdown with Ms. Pat
Host: Patricia "Ms. Pat" Williams
Genre: Comedy
87 episodes – New episode every Tuesday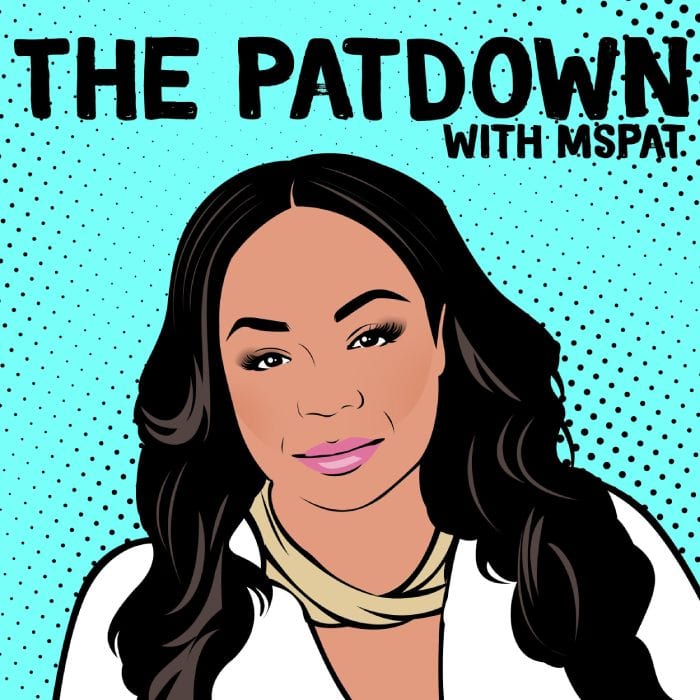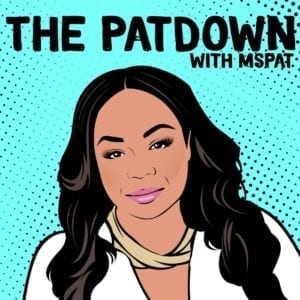 American stand-up comedian turned host, Patricia "Ms. Pat" Williams, takes the podcast into her platform to introduce a healthy sense of humor amidst social injustices common among the African-American society. Each episode is 45 minutes to an hour long and talks about the goings-on of the lives of famous Black personalities whose success steamed from the unequal opportunities of life. The topics could go as random as possible and aim to make life a little less serious and a lot more glamorous!
Why would you want to listen to this show?
Being black is a source of pride. And that is precisely what Ms. Pat would make you feel going over her episodes as she deals with every obstacle with dignity, class, and comedy. Much more if you are a woman, loves a woman, or have decided to be a woman, you will appreciate how injecting life with a dash of feminine elegance can turn the bleakest of circumstances into something positive. Speaking of black, The Patdown with Ms. Pat episodes shows that black sunshine is the brightest!
Podcast Episode to get you started:
October 6, 2020: Episode 78: Door Stopper
Length: 43 minutes
Description: Ms. Pat talks about the good old days and how we never noticed it happening until it's over. The conversation went around several semi-unfortunate events and laughed the entire episode out!
Featured one-liner: "The catfight was really fun to watch! We laughed our ass up with it." "It's a big big world out there, can't stay too far away from home!"
No. 8: 2 Black Girls, 1 Rose: A Bachelor Podcast
Host: Natasha Scott and Justine Kay
Genre: TV & Film
141 episodes – New episode weekly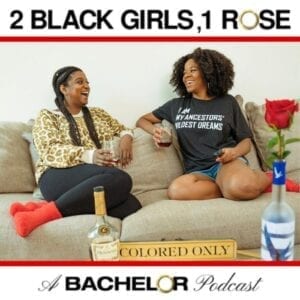 Watch the two 2 Black Girls invade the whitest show on the planet! Every episode will be scrutinizing these infamous dating reality shows: The Bachelor, The Bachelorette, and Bachelor in Paradise. Have fun with Natasha Scott and Justine Kay as they openly talk about their insights, commentary, and opinions about the guests of the show.
Why would you want to listen to this show?
Granted, like me, you may not be a fan of romantic reality shows. That still shouldn't put 2 Black Girls, 1 Rose off your list. There can be so much to learn about the logic of dating as Natasha and Justine talk about every guest's different responses to the challenges of finding their one true love (if you believe in this). This will help you maneuver your way out of social awkwardness and avoid sabotaging your chances of ending up with your happy-ever-after, or at least the convenience of having someone to argue with over breakfast when you're bored.
Podcast Episode to get you started:
November 8, 2020: Ep. 5: Always Internet Stalk
Length: 9 minutes
Description: Learn just how vital background checking is before actually getting committed to someone. In this episode, Natasha and Justine talk about Dale and Claire's love story and what Claire could have done better not to sabotage future potential partners.
Featured one-liner: "It feels like rubbing it in." "This line was totally unnecessary. She said that 'I hope that what I found in Dale. I want the same for you guys!' That was so rude and so unnecessary!"
No. 9: The Big Podcast w/ Shaq
Host: Shaquille O'Neal
Genre: Sports
37 episodes – New episode every week
The man himself, the basketball legend Shaquille O'Neal, is finally on your podcast talking about news, entertainment, crazy controversies, and everything that goes on in and out of the court. Understand what really goes on in the champions' minds, both in their darkest and most triumphant moments. Each episode talks about the mechanics and updates of the games and discusses how basketball plays a massive role in shaping a community that centers on unity and the celebration of individuality.
Why would you want to listen to this show?
Need a laugh? This is, hands down, the funniest sports commentary show! Can't make your girl watch sports with you? Get her hooked to Shaq's wittiness, and you're good to go! Play this on a road trip, and it's always a win-win! Need we say more? It's hosted by Shaquille O'Neal! End of discussion.
Podcast Episode to get you started:
August 7, 2020: Shaq recounts his scare with Covid (which he didn't have)
Length: 1 hour, 12 minutes
Description: Shaq talked about his Covid19 scare when he caught a cough, congestion, and a bunch of ruined plans. He recalls how this year may be considered his worst year by far and how he taught himself to find the silver lining and keep going.
Featured one-liner: "This was when Kenny was up on the board, and Ernie asked Shaq if he was gonna give Kenny a Covid test. And we got this, and I like Shaq's reaction!"
No. 10: All The Smoke
Hosts: Matt Barnes and Stephen Jackson
Genre: Sports
59 Episodes – 2 Episodes weekly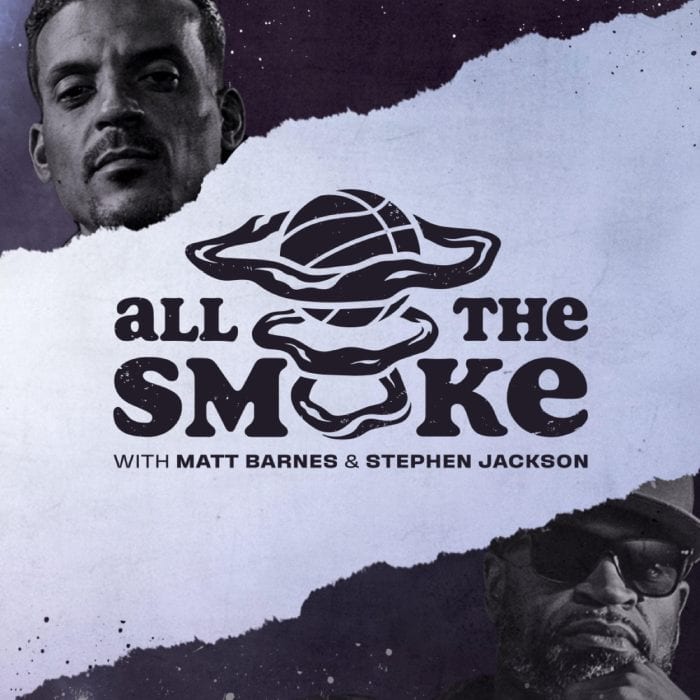 We started this list strong. Let's end with an avalanche! Two of the most controversially outspoken basketball players in the past decade who both banged the NBA championships in season 2006-2007 are now up on your podcast talking about the unseasoned, unadulterated realities of their lives and the issues players are facing today.
Why would you want to listen to this show?
If you want a weekly radio show that can single-handedly get you through this pandemic, this show is perfect for you! Even with minimum interest in sports, anyone will enjoy Matt and Stephen's topics. Their deep questions will stir your mind and get you thinking hard of your life even if you're not into sports because, hey, life is but a big game, isn't it? And what can you expect when two great heads combine? Greatness! So great even the most unlikely experiences are fun to listen to!
Podcast Episode to get you started:
June 18, 2020: Episode 42 – Ken Griffey Jr.
Length: 67 minutes
Description: Ken Griffey Jr., a baseball legend, shares the truth behind the glamour of his career as a Hall Of Famer. Listen as he dives into the stories of his home runs and injuries during the steroid era.
Featured one-liner: I was so nervous and I was like, "Oh Lord, I don't even know what I wanna do." "I ain't going nowhere. I'm just gonna sit here and not waste all this energy. It was so nerve-wracking." – Ken Griffey Jr. on losing his parents at the age of 20.