These days it's become more and more of a challenge looking for the perfect podcast lineup, wouldn't you say? Just think of the sheer number of podcasts you'll have to go through if you're really bent on filtering the list out yourself! Of course, you could definitely do that if you want, but you can always go down the easier path and let others do the tedious work for you. (Not that we're complaining!)
So, here we go with our top 5 millennial podcasts plus favorite episodes for Millennial Entrepreneurs.
No. 1: Online Marketing Made Easy
Podcast Hosts: Amy Porterfield
Genre: Marketing
With so many experts (and not-so-experts) giving out marketing tips and strategies, online marketing can get pretty complicated and difficult to digest. Thankfully, it doesn't have to be! In this Online Marketing Made Easy podcast, host Amy Porterfield gets into the nitty-gritty of things to 'dissect' and break down every single detail you need to understand about marketing so you get the results you want for your online business! Featuring some of the world's best marketers, each episode of this podcast presents a wealth of information without the overwhelm. So if you're looking for expert answers to all those big marketing questions, this is the podcast you should tune in to.
Here Are Some Episodes to Get You Started!
The One Where We Make Business Legal Jargon Sexy with Ashley Kirkwood
Can't seem to wrap your head around legal jargon? In this episode with Ashley Kirkwood, Amy covers how learning the basic terms can help you simplify your business. Ashley is a lawyer by profession (with an impressive track record to back her expertise in the subject matter) who definitely knows how to break down all the terms into understandable concepts. Talk about making legal lingo sound sexy. Once you listen to this, you'll never look at legal terms the same way again!
5-Steps For Creating & Repurposing Your Content Calendar Like A Boss
If there's one thing that a lot of online entrepreneurs find stressful, it's having to come up with awesome content for their social media pages. Note that our keyword here is 'awesome'. Because technically speaking, anyone can post content, but not everyone has content that is actually worth reading or checking out. So in this episode, Amy walks us through each of the five basic steps that you need to take so you can create and repurpose your content like a pro!
From Bankruptcy To The Today Show: Become The Creative Visionary Of Your Business & Life With Tracy Matthews
Behind all the glamour and glitz of highly successful individuals are challenges that they have had to overcome to get to where they are now. So in this episode of the Online Marketing Made Easy podcast, Amy gives us a glimpse into the life of Tracy Matthews, the creative visionary behind Flourish & Thrive Academy. Learn how Tracy got through tough times (including a bankruptcy) to become one of the most successful women in her field today!
Behind-The-Scenes With My Mentor, Michael Hyatt: Why Entrepreneurs Will Save The World
The past few years have seen a steady decline in entrepreneurship, so in this episode of the Online Marketing Made Easy podcast, Amy discusses the topic with her mentor, Michael Hyatt. Tune in to learn why entrepreneurs are necessary for the global landscape and how we can reverse the downward trend of entrepreneurship these days.
The Power Of Your Voice: How To Cut Through The Online Noise, Attract Your Ideal Customers, & Make $$$
With almost every business going online these days, it can be quite a challenge figuring out how to cut through all the noise and get right in front of your target market. So in this episode of the Online Marketing Made Easy podcast, Amy features the creator of the Slay the Mic program to talk about how you can make big bucks by just learning how to connect with your audience on a deeper level.
No. 2: The DreamNation Podcast
Podcast Host: Casanova Brooks
Genre: Entrepreneurship
What better way to kickstart your year than by tuning in to a podcast filled with all the information (and inspiration) you need to get your business and your life on fire? Hosted by award-winning author, real estate guru, and certified dreamer and achiever Casanova Brooks, the DreamNation podcast is your ticket to seeing all your dreams turn into reality. Each episode features industry experts who talk about proven strategies that will help you get on the fast track to success. Because really, no one is ever too old (or too young) to dream!
Here Are Episodes to Get You Started!
Stu Massengill: How to Find Your Life's Direction
Ever felt like you've lost your way in life? Then this podcast may be all you need to get back on the right track! In this episode of the DreamNation podcast, Casanova features Stuart Massengill and talks about how you can be whoever you want to be, regardless of your background and regardless of any perceived limits.
Tonya Rapley: How To Align Your Brand And Finances
Millennials have often been mislabeled as "ungrateful" and "entitled" individuals, which does not even come close to who millennials actually are! So in this episode with Tonya Rapley, Casanova shines the spotlight on how millennials can actually break through this stereotype and live a life that is aligned with their greater purpose. Plus, Tonya also talks about how she was able to get past the struggles to live a life of financial freedom and do more of what she loves. So if you're looking for an episode that will empower you, this is the right one to tune in to!
Keenya Kelly: How To Use Social Media To Drive Revenue
We all know that social media plays a key role in bringing in profit for your business, but how exactly does that work? In this DreamNation episode, Casanova brings in Keenya Kelly, an accomplished business executive, teacher, speaker who has made it her mission to help entrepreneurs build successful businesses and establish brands that resonate with their target market. Listen to this podcast if you're looking for solid advice and motivation to amp up your social media game!
Anthony Trucks: How To Shift Your Path To Success
We all want happiness as much as we want success, that's a fact. Sometimes though, things in our life may not seem to go as expected, and you might feel as though you're spiraling to the bottom. And if that's how things are for you, then trust us, you're not alone. In this DreamNation episode with Anthony Trucks, Casanova shows us how we can navigate from the bottom to the top by simply shifting our mindset the right way. Plus, you'll learn what identity shifts are and why they are crucial for success.
Dr. Dennis Kimbro: How And Why We Achieve Greatness
Ah, greatness! Don't we all want that? The thing is, greatness can be pretty elusive. Just when you think you've almost reached it, some things start getting in the way. But it doesn't have to be that complicated, you know. In this episode on the DreamNation podcast, Casanova sits down with Dr. Dennis Kimbro to talk about how you can reach your fullest potentials so you can accomplish the great things you deserve in life. Tune in for in-depth information and all the motivation you need to start heading down the road to greatness!
No. 3: The Goal Digger Podcast
Podcast Host: Jenna Kutcher
Genre: Marketing
Thinking about quitting the 9 to 5 and just start making serious money online? Then this is the right podcast for you! Hosted by marketing diva Jenna Kutcher, the Goal Digger podcast is your A to Z guide to success in the online marketing world. Featuring inspirational stories, in-depth interviews, and business hacks, each episode of this millennial podcast talks about powerful, actionable tips that you can immediately take for your business so you can start generating a profitable passive stream of income.
Here Are Episodes to Get You Started!
How to Create Business Boundaries with Those You Love
One of the best episodes we've listened to on the Goal Digger podcast is this one where Jenna talks about how she was able to create business boundaries with her husband Drew while maintaining a healthy relationship with him. So if you're an entrepreneur yourself and you're having a hard time striking the balance between business and your personal life, then you definitely should tune in to this episode and start reflecting on what you can do now to help you get through that challenge successfully.
5 Email List Growth Hacks You Need Right Now
Now, this might not be the marketing strategy that everyone's talking about these days, but did you know that growing your email list is one of the most effective growth hacks you can ever use for your business? In fact, this is how marketing experts are making huge profits! So in this podcast episode, Jenna talks about how you can strategically grow your email audience from scratch so you can reach out to more people successfully, especially during (and definitely in spite of) this pandemic.
3 Questions You Should Ask Before Redesigning Your Website
Think you need a major makeover for your website? Hmm. . .before you make any drastic decisions that you might regret later, why don't you tune in to this episode first? In this episode of the Goal Digger podcast, Jenna features one of her first guests to her show—Jen Olmstead, to talk about why all you need for your website could simply be a little refresh rather than a total redesign. Oh, we should also tell you that this guest right here was one of the first people who have helped Jenna Kutcher design her website to reflect her brand. And if you've seen Jenna Kutcher's website you'd know why we love this guest and this episode as well.
10 Ways to Seek Out the Silver Lining of 2020
We all know that 2020 is nothing like the years that have come before it. And to be honest, the entire year's events can paint a grim picture of reality. But cheer up! All is not bad as you may think it to be. In fact, if you look closer (and from the right perspectives) you'll see the silver lining of this year. Now this episode is not meant to give you all the answers you need so you can sort your life out after this year, but it sure can help you regain your balance so you can move forward with optimism. Tune in to this episode to find out Jenna's 10 ways for finding the positive in a very tough year.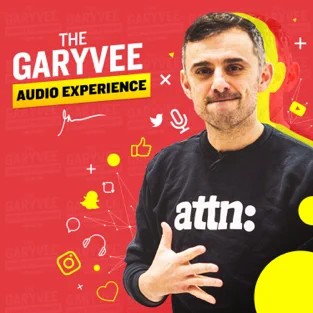 No. 4: The GaryVee Audio Experience
Podcast Hosts: Gary Vaynerchuk
Genre: Entrepreneurship
We bet you already know who Gary Vaynerchuk is even before we introduce him. He's been a household name in the industry, after all. And with good reason! Gary's one-of-a-kind approach towards entrepreneurship is one you shouldn't miss. Featuring a mix of keynote speeches on marketing and business, segments from his WeeklyVee video series, interviews with successful entrepreneurs, and other original content he's recorded specifically for the podcast, the GaryVee Audio Experience is definitely worth a listen.
Here Are Episodes to Get You Started!
How to Be Reliable | Monday Marketing Takes: Uber
The word 'reliable' sure does have a serious ring to it, and rightly so! In this episode of the GaryVee Audio Experience, Gary features Thomas Ranese, Uber's VP of Global Marketing as they both discuss their perspective on the current marketing landscape and how building reliability is key to establishing a strong business infrastructure. So if you're planning to build a business yourself, then you'd do well to listen to solid marketing advice from the experts themselves.
What Makes a Strong Brand? | Interview on FMC Fast Chat
There's more to branding than just choosing a catchy name for your products or services, and in this episode of the GaryVee Audio Experience, we get to see how you can build a strong brand. Featuring an interview Gary gave on the Fair Media Council's podcast hosted by Jaci Clement, this episode outlines how you can leverage modern advertising strategies to build a brand your market will love.
Understanding The Digital Economy | Interview on FYI Podcast
Need a little more insight into the current digital economy? Then tune in to this episode where Gary shares an interview he gave on the FYI podcast. Here are some takeaway points you need to watch out for: How you can ride with the consumer shift brought about by the pandemic, how you can utilize the Facebook platform to reach out to the older population, and how gaming could be the next big thing in social media. Plus, don't miss out on Gary's take on what he calls is an impending "trillion-dollar warfare" and the advent of social commerce version 3.0.
Growing a Sustainable Brand | Interview with Hyram Yarbro
Want to go viral on TikTok? Then this episode featuring TikTok Hyram Yarbro should be on the top of your To-Listen list! In this interview, Gary and Hyram talk about TikTok hacks that you can make use of to grow your audience (and your business too, if you do things the right way) on the platform.
How To Lead | Interview with David Rubenstein
Not everyone is born a leader, or is that really the case? In this exclusive interview with David Rubenstein, the Co-Founder and Co-Executive Chairman of The Carlyle Group, one of the world's largest and most successful private investment firms, Gary and David shines the spotlight on how each and every one of us can be great leaders in our own fields.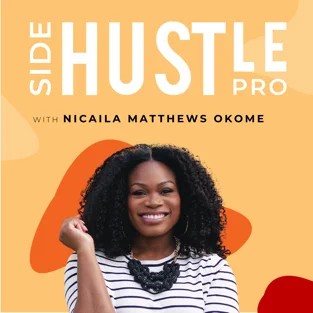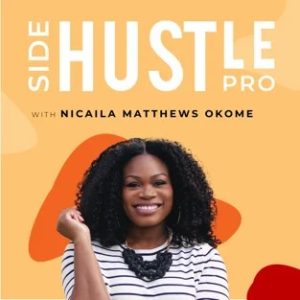 No. 5: Side Hustle Pro
Podcast Host: Nicaila Matthews Okome
Genre: Careers
It's time to shine the spotlight on black women entrepreneurs with this podcast hosted by entrepreneur Nicaila Matthews Okome! Featuring notable visionaries like Myleik Teel of CurlBox, Lisa Price of Carol's Daughter, Nicole Walters of The Monetized Life, Maya Elious of Built to Impact, the Side Hustle Pro podcast provides actionable strategies on how you can turn your side hustle into a profitable business in no time!
Here Are Episodes to Get You Started!
How to Move Forward When You're An Unemployed Side Hustler
These days, unemployment rates have been at an all-time high, what with the pandemic still raging. And it can get depressing, especially because this is not something any of us saw coming. So if you're going through this rough patch right now, then this episode is for you. In this segment, Nicaila talks about how she coped and transitioned from unemployed to a side hustler, and how you can do the same yourself.
My Biggest Lessons From 4 Million Podcast Downloads
In this episode of the Side Hustle Pro podcast, Nicaila walks us through all her learnings after four years (and four million podcast downloads) of being in the podcast industry. So if you're planning on becoming a full-time podcaster one of these days, then this is the right episode for you to tune in to. Plus, this is also the assurance you need if you feel like you're making more than a few mistakes in your podcasting journey.
How I Did it: Turning A Podcast Into A Full-Time Career
Okay, think of this as Part 1 of that previous episode we talked about. In this episode, Nicaila takes us all the way back to, well, the start as she talks about how she unintentionally got to turn her side hustle into a highly profitable full-time career. So if you're into side hustling (or considering doing a side hustle while you're still trying to figure out where you want to go in life), then this episode is for you.
7 Tried and True Tips for Side Hustling When You Don't Have a Lot of Time
Not sure how you can hold down a full-time job (and yes, we're talking about a 9 to 5 here) and still get to hustle on the side? In this episode of the Side Hustle Pro, Nicaila walks us through seven of her tried and true tips that turned her into the side hustle queen that she is. Talk about the perfect episode for those who feel like there's never enough time to get everything done!
How to Lay the Foundation of Your Business
Let's go back to basics! In this episode of the Side Hustle Pro, Nicaila talks about how you can build a foundation for your business that's strong enough to withstand even the most unexpected challenges (including this pandemic). And, learn about how Nicaila started her side hustle and grew it from the ground up! Trust us, her methods were far from conventional, but they worked anyway.