You want to amp up your entrepreneur self before 2020 ends (and make sure you're all set for 2021), but you're just not sure how or where to start? Then you need to go ask the experts! And what better way to get expert advice than by tuning in to powerful podcasts that feature seasoned and highly successful entrepreneurs?
But with so many entrepreneur podcasts to choose from, picking out the ones that are worth listening to can be quite a challenge. After all, who has enough time to go through each entrepreneur podcast (there's probably almost a thousand of them) available online? So instead of you having to stress yourself out looking for the right podcast, we've condensed everything to just 25 entrepreneur podcasts for you to choose from.
My Personal Favorites Podcasts for Entrepreneurs in 2021.
These entrepreneur podcasts are our personal favorites, and we know you'd love them too! Read on to find out which of the many podcasts have made it to our Top 25!
#1: EntreLeadership
You know what they say, your business is only as strong as your mentors. And that's precisely why you should listen to podcasts like this one. Hosted by Daniel Tardy, the EntreLeadership Podcast features in-depth interviews with some of the biggest names in the industry—Seth Godin, Jim Collins, Mark Cuban, and Simon Sinek, among others. These discussions cover everything you need to know about building and scaling your business, so if you feel like you need help in those areas, you better check this podcast out.
Or, you can start by watching one of their episodes below!
When it comes to growing a business, there are two things you need to manage: time and productivity. After all, it's not just enough that you work hard. You need to work smart as well. In this podcast hosted by Tim Ferris himself, you'll learn how to develop smart habits to grow your business, and what you can do to even maximize your potential. Featuring world-renowned thought leaders and game-changers, the podcast is ideal for high-performing people who want to step up their game. You don't want to miss this podcast!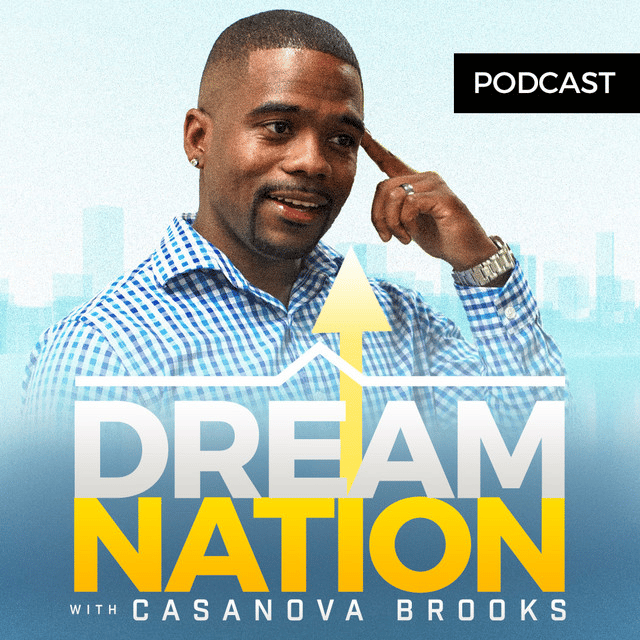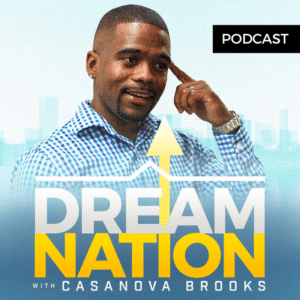 Are you ready to begin your journey to personal and financial freedom? Then this podcast is where you should start. Built for dreamers like you, the DreamNation Podcast covers all the things you need to know so you could finally start living the life you deserve and dream of.
In this podcast, Casanova Brooks brings in top industry experts to discuss the most effective strategies that have helped them get to where they're at in business and life. We're talking about proven mindset, marketing, and relationship secrets that can help you get ahead of the race. Plus, you get to hear motivational stories from seasoned entrepreneurs who were able to overcome personal struggles and achieve their personal goals despite hitting rock bottom. Check out the podcast today and get the chance to turn your dreams into reality!
And oh, just so you know, you can also watch your favorite DreamNation podcast episodes on YouTube! Not sure what episode to watch? You can start with the video below featuring Tera Carrisa with the title, How to Speak Your Goals Into Existence, or click on this link for a full list of episodes!
#4: So Money
Hosted by award-winning financial strategist and TV host Farnoosh Torabi, the So Money podcast features top business minds, authors, and influencers and covers their money strategies and stories. If you're interested in learning about their financial philosophies and their winning habits, then this is the right podcast for you.
#5: Masters of Scale
Listen to the real masters of business in this podcast hosted by Reid Hoffman, co-founder of LinkedIn. In this Masters of Scale podcast, Reid covers how startups can grow from scratch and scale into successful and sustainable businesses. Each episode of the podcast features discusses business theories with seasoned entrepreneurs so you'll know which ones work, and which ones to avoid. Stream the podcast weekly to get access to the latest content!
Imagine learning from the best industry leaders for FREE. This is exactly what the Entrepreneurs on Fire podcast brings to its audience. Hosted by John Lee Dumas, this podcast showcases exceptional entrepreneurs who are more than willing to talk about their journey towards their success, as well as their secrets to building their businesses.
Nobody fancies a 9-to-5 day job (a.k.a. the rat race), and if you're tired of it too, then this is just the perfect podcast for you to stream to. Hosted by Robert Kiyosaki, best-selling author of the book Rich Dad Poor Dad, the Rich Dad Radio Show offers a wealth of unconventional wisdom on business and marketing. If you're looking for a podcast that challenges your money philosophies, you definitely should tune in to this show.
Are you a woman entrepreneur (or aspiring to be one)? If your answer is yes, you'll fall in love with this podcast. Hosted by Amanda Boleyn, the She Did It Her Way podcast features some of the most successful women entrepreneurs today and answers the biggest questions about starting and keeping a business running.
Notable guests include Jenna Kutcher, Amy Porterfield, and Julie Solomon. Plus, we should mention that this podcast was on Forbes' top 12 best podcasts for entrepreneurs. And for good reason! With new episodes premiering each week, there's always so much information for you to enjoy and learn from, so don't forget to check the podcast out!
#9: Marketing School
If you're a big fan of digital marketing, then we're pretty sure you know all about Neil Patel and Eric Siu. Hosts of the Marketing School podcast, Neil and Eric are among the best digital marketers in the world. And needless to say, their marketing podcast is one of the best too. Covering fundamental subjects like SEO, content marketing, social media marketing, email marketing, and conversion optimization, this podcast is your ultimate go-to guide for your online business. So whether you're already an established entrepreneur or you're still trying to become one, this podcast can give you all the solid guidance that you need to get more people to see what you have to offer.
#10: StartUp Stories – Mixergy
It's time to step out of your comfort zone! Seriously, if there's one thing that holds many back from achieving success it's because they're too scared to do things differently. If that's the case with you, this podcast hosted by Andrew Warner is the push you need to do what 99% of the population isn't doing.
Featuring the most successful businessmen in the world and with over 1,000 interviews and counting, the Mixergy podcast is definitely something worth streaming to for tips, strategies, advice, and motivation.
#11: StartUp Podcast
Planning to build a startup business? It's actually easier than you think! In this podcast hosted by Alex Blumberg and Lisa Chow, you'll hear from leading entrepreneurs from various industries who share their stories of failures and successes so you can learn how to build and grow your startup successfully. Tune in to this podcast for the latest and most effective business strategies.
#12: HBR IdeaCast
Love in-depth business conversations? Then you'll love the HBR IdeaCast podcast. Hosted by Alison Beard and Curt Nickisch, this amazing podcast features 15-to-20-minute episodes that talk about business and management. Specifically designed for small business owners, this podcast brings in top thinkers from various industries to talk about business insights and trends that you don't usually hear for free. So make sure to subscribe to this podcast and keep yourself posted on fresh content every week!
#13: Entrepreneurial Thought Leaders
This series hosted by Stanford University is a must-listen podcast. Showcasing different thought leaders from various industries, this podcast offers a practical resource for entrepreneurs who are interested in adding to their business knowledge and insights. New episodes premiere every week, so keep yourself posted.
#14: The GaryVee Audio Experience
Tune in to one of the top-rated entrepreneur podcasts of all time! The GaryVee Audio Experience is hosted by Gary Vaynerchuk himself, chairman of VaynerX and CEO of VaynerMedia. In this podcast, Gary presents highlights from his weekly video series and provides value-based interviews, insights, and casual conversations with top entrepreneurs. New episodes premiere almost every other day, so make sure you keep yourself posted!
#15: Millionaire Mindcast
There are three things you need if you want to be a millionaire: Mindset, Money, and Motivation. And this Millionaire Mindcast podcast helps you achieve all three. Hosted by Matt Aitchison, a 7-figure real estate investor, this entrepreneur podcast sheds light on actionable tips to help you reach your financial goals. Tune in to listen to powerful motivational episodes and financial insights, and learn how you can earn real financial freedom.
In this episode of the Millionaire Mindcast Podcast, Matt talks about how you can thrive and build wealth in what he calls would be a 2021 Great Depression.
#16: Indie Hackers
There's a secret to making big money online, and this podcast holds the key. Hosted by Courtland Allen, the Indie Hackers podcast interviews hundreds of developers who talk about how they built, marketed and grew their projects into profitable online businesses.
Designed for both aspiring and seasoned entrepreneurs, this podcast provides you with the solid basis that you need to keep your business running (or make sure that you successfully lay the groundwork for it). So if you want to know things like discovering the ultimate business idea, testing your market, finding your first customers, or marketing your products and services online, this podcast is for you.
#17: The Art of Charm
Are you appealing to the right type of audience? Or do you find it a challenge for your target market to FINALLY notice your brand? If you're one of those who answered a yes to the second question, then this podcast can help you.
The Art of Charm is designed for self-motivated people like you who want to master the concept of human dynamics so you can appeal to the right people and build the right relationships that will help you grow your business better. Hosted by Johnny and AJ, this podcast offers so much value and insight into human behavior and how you can leverage this knowledge to increase your profits. Tune in today to start learning!
#18: Freakonomics Radio
There's always a hidden side to everything, and this podcast hosted by Stephen J. Dubner is dedicated to discovering that. Each week, a new episode premieres on Freakonomics Radio, where Stephen reveals something you thought you knew (but never did) and talks about all the things you badly want to know. There's always something intriguing to talk about and learn of each week, so make sure you keep yourself posted!
#19: Goal Digger
Let's be honest. How close are you to reaching your goals? If you're one of those who are fortunate enough to say that they've already reached their goals, great for you! But chances are that you're still trying to achieve what you want in life. Maybe you're stuck somewhere in the process and you're not sure how to get yourself back on track. Well, this podcast is here to help you out.
Hosted by Jenna Kutcher, the Goal Digger podcast features successful individuals from various industries who share their stories on how they were able to overcome their challenges and reach the goals they've set for themselves. Tune in to the podcast today and get inspired by their stories!
The James Altucher Show is hosted by a successful American entrepreneur who has made it his mission to inspire fellow entrepreneurs (and aspiring ones) and help them overcome obstacles so they could successfully scale their businesses.
Each episode in the James Altucher Show features interviews with top industry performers who talk about their personal struggles and how they've successfully reinvented themselves so they could get to where they are right now. Scroll through the podcast episodes and hear from top entrepreneurs like Tim Ferris, Arianna Huffington, and more!
# 21: How I Built This
Ever wondered how top entrepreneurs built their business empires from scratch? Guy Raz has the answers. In his How I Built This podcast, Guy dives into the stories behind some of the world's top companies to weave a compelling narrative of tips, strategies, and insights you can use to build your own empire.
Interested in the podcast? Here's an episode to get you started! Featuring Canva founder Melanie Perkins, this segment talks about the WFH situation and how you can make the most out of it.
#22: a16z
Produced by Andreessen Horowitz (a.k.a. a16z), this podcast helps you discover the latest technology you can use to grow your business even better. Featuring global industry experts, business leaders, and out-of-the-box thinkers, the a16z podcast keeps entrepreneurs well-informed so their business never goes outdated.
#23: The Mind Your Business Podcast

Everybody wants to succeed. But not everyone knows the secret to success. In the Mind Your Business Podcast, James Wedmore reveals how the right mindset holds the key to immeasurable success. A seven-figure online entrepreneur himself, James can vouch for that fact, and he brings in other successful people like him to talk about the power of having the right mindset and attitude towards their business.
Tune in to the podcast and dive into a wealth of information to help you create success from the inside out.
#24: Side Hustle School
Written and hosted by New York Times bestselling author Chris Guillebeau, the Side Hustle School podcast is created for those who want to start earning on the side while working a regular job. In each episode, listeners will get to hear motivational stories of those who started their ideas as a side hustle and were able to overcome challenges and grow their businesses to what they are right now. Stream the podcast today!
#25: Angie Lee Show
Not sure how to get people to do business with you? Well, this gal right here is your 'marketing and business bestie,' and really, you couldn't ask for more! Angie Lee is a seasoned marketer herself, and in this podcast, she reveals all the ins and outs that you need to know to get on top of the marketing game. Covering essential topics such as social media marketing, email marketing, content marketing, and more, this entrepreneur podcast is definitely worth checking out.
Are there any more podcasts you'd like to add to our list? Let us know in the comments below!