Looking for the right real estate podcasts to boost your knowledge of the industry? You've come to the right place! Scroll down to the 20 real estate podcasts you should check out before the year ends.
#1: Passive Real Estate Investing

Curious as to how busy people get to generate a lot of wealth without doing much? Well, that's because they know how to build substantial passive income and at the same time create wealth that would last them for generations.
In this Passive Real Estate Investing podcast, host Marco Santarelli lets us in on the latest and most effective strategies and shares with us valuable insights on how you can make real money in real estate.
Featuring notable podcast guests like Robert Kiyosaki, Dean Graziosi, John Lee Dumas, and Brendon Burchard, Marco makes sure that you get the expert advice you need. New episodes premiere each week so make sure you stay tuned!
#2: BiggerPockets Real Estate Podcast
Imagine how great it would be to have successful real estate investors and entrepreneurs in your inner circle. Right? Think of all the conversations you can have about their struggles, failures, motivations, success, and the lessons they've learned about real estate. And that's exactly what the BiggerPockets Real Estate Podcast is all about.
Hosted by Brandon Turner, David Greene, and Joshua Dorkin, this podcast provides expert tips from certified experts in the industry. So don't forget to tune in to the podcast each week for the latest episodes.
#3: DreamNation Real Estate Podcast
If there's one thing you should know about real estate, it's that ANYONE can be a real estate entrepreneur. And yes, you've read that right. Having a huge sum of money in the bank is not a requirement. In this DreamNation Real Estate podcast, host Casanova Brooks talks about how you can build your real estate empire from scratch and showcases individuals who have successfully overcome barriers and succeeded in the industry.
Featuring the best real estate professionals, this podcast provides all the latest strategies you need to know to be a real estate pro. Don't forget to check this podcast out and keep yourself posted every week for new episodes.
Check out this episode from the podcast featuring Danny Morel entitled, How To Find Your True Potential In Life And Real Estate.
If you want real talk about personal finance, investing, and business, you better tune in to this guy. We bet you've already heard about him—Robert Kiyosaki, the best-selling author of the book Rich Dad Poor Dad.
In this Rich Dad Radio Show, Robert challenges mainstream beliefs and practices as he sits down with established professionals from the world of money, investing, business, and personal development. A word of caution though: If all you want to hear about is how to get rich quick, this podcast is not for you.
#5: The Cardone Zone
Think real estate investing is super complicated? Grant Cardone here will show you that it's not. The Cardone Zone is exactly what you want to listen to for expert advice made simple, and for powerful interviews with some of the world's most successful entrepreneurs and business leaders. Tune in to the show if you want to discover how you can learn and master the art of investing in real estate.
#6: The Oglesby and Scott Show
Want another podcast that highlights black wealth building through real estate investing? (Aside from the DreamNation Real Estate podcast, that is.) Then you've got the Oglesby and Scott Show.
Hosted by black entrepreneurs Charles Oglesby of Todd Capital and Rashauna Scott of Flippin' in Heels, this show showcases the most successful African American real estate investors and entrepreneurs, and features their stories and the lessons they've learned from their success.
#7: The Real Estate Guys Radio Show
Believe us when we say that this show is worth listening to. Broadcasting live since 1997 (before online podcasts were even a trend), the Real Estate Guys Radio Show is your reliable source of real estate information. Expect a fast-paced, no-hype education on real estate delivered in a fun and informative way by your real estate guys. Don't worry, these guys know what they're talking about.
Tune in to the show today and discover proven strategies on how you can make money through real estate in whatever market you may find yourself in. And of course, make sure to listen to how you can avoid making costly mistakes that most new investors get themselves into.
#8: Investing In Real Estate w/ Clayton Morris
Hosted by Clayton Morris, the Investing in Real Estate podcast shines the spotlight on proven and tested investing strategies worth looking into if you want to start building your real estate empire now.
That includes talking about how to do a buy-and-hold, how to strategically acquire rental assets, how to build your net worth—all of these, and more, to help you accelerate towards financial freedom. Subscribe today to get access to this wealth of information.
You probably haven't thought of real estate as an art, but it actually is. That's what hosts Mark Podolsky and Scott Todd talk about in the Art of Passive Income podcast. These successful land investors and land investing coaches release new episodes of their podcast each week to talk about how you can build a profitable passive income stream by making the right land investments.
Curious? Go ahead and check their podcast out today! You won't regret it.
#10: Cashflow Guys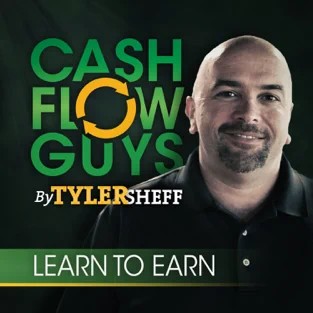 If you could double, triple, or even quadruple your cash flow today, would you? Of course, you would. Right? After all, who doesn't want the financial freedom that comes with an increased cash flow? No one. But the question is, how exactly do you get the cash flow that you want?
In the CashFlowGuys podcast, host Tyler Sheff teaches busy people how they can utilize and leverage their resources to grow their profits and accomplish what they want—all of these through real estate. Featuring experts from all around the world, this podcast aims to help people improve their financial intelligence in real estate so they can build and earn from stable passive income streams.
#11: Apartment Building Investing w/ Michael Blank
Want to know how you can safely invest in apartment buildings? Then this is the podcast you are looking for. Hosted by author and entrepreneur Michael Blank, the Apartment Building Investing podcast tells us what works (and doesn't work) in the world of commercial real estate investing.
Tune in to learn about the best and time-tested strategies experts like him use to get ahead of the competition and make a huge profit.
#12: Wheelbarrow Profits
Hosted by Jake and Gino—both experts in multifamily real estate investing—the Wheelbarrow Profits podcast is all about how you can achieve the financial freedom you've always wanted by creating your stream of passive income through real estate. If you want to make success happen, this podcast is the key to unlocking it. Go ahead and check it out!
#13: Best Real Estate Investing Advice Ever
This one right here is the world's longest-running, daily real estate investing podcast. And for good reason!
Hosted by Joe Fairless, a real estate entrepreneur who went from buying a $35,000 single-family home to owning over $610,000,000 worth of real estate properties in less than ten years, this podcast has all the expert advice you need to make it big in the real estate world. Don't forget to check out the podcast every day for fresh content!
#14: Lifetime Cashflow Through Real Estate Investing
Gain access to some of the world's best real estate investors, syndicators, lenders, property managers, and advisors.
In this Lifetime Cashflow Through Real Estate Investing podcast hosted by Rod Khleif, you'll hear stories, tips, and advice from these experts so you could successfully build a fortune through real estate investing. If you want to hear from some of the best real estate investors in the country, you better check this podcast out.
#15: Investing For Freedom with Mike Ayala
Earn your financial freedom the right way! In this real estate podcast with Mike Ayala, you'll discover new ways to achieve this freedom with interviews and tips from the experts. Tune in to the Investing for Freedom podcast today and get all the information you need about investing in real estate the right way!
No, the Impatient Investor podcast is not about get-rich-quick schemes. Hosted by Andrew Lanoie, this podcast is all about how you can get on the fast track to financial freedom and build wealth through real estate. Stream this real estate podcast weekly so you don't miss out on new episodes!
#17: Real Estate Rookie
So you want to build your real estate empire and start generating passive income, but you're not sure how or where to start. Here's where this podcast can help!
The Real Estate Rookie podcast, hosted by Ashley Kehr and Felipe Mejia, breaks down all the details you need so you can start investing in real estate (and avoid making costly mistakes!). Think of these guys as your personal real estate trainers. From tackling 'newbie' questions to covering the more intricate aspects of the industry, this podcast is definitely worth checking out.
Here's an interesting episode to begin with entitled, Doing Deals While Quarantined, featuring real estate entrepreneurs Jeremy Goldizen, Kristen Johnson, and Rafael Estrada, as they talk about how newbies can still close real estate deals despite the pandemic.
#18: Real Estate & Financial Independence Podcast
Looking for a real estate podcast featuring in-depth interviews with real estate experts on how you can achieve financial freedom? Then this is the podcast you should check out. Hosted by Chad "Coach" Carson, this Real Estate & Financial Independence podcast reveals practical advice on how you can make your financial dreams come true through real estate. Start your journey to financial independence today by subscribing to this podcast!
#19: The Real Estate CPA Podcast
The Real Estate CPA podcast is hosted by Brandon Hall, owner of a CPA firm that exclusively services real estate entrepreneurs. Each 10-20 minute episode in his podcast delivers no-nonsense information on what you can do right now so you can start building a profitable real estate portfolio and learn how to close multi-million-dollar real estate deals.
Interested? Start streaming the podcast today!
#20: The Real Wealth Show
We're ending this top 20 list of real estate podcasts with the Real Wealth Show hosted by Kathy Fettke, co-CEO of Real Wealth Network, and best-selling author. Featuring famous personalities like Robert Kiyosaki, Doug Duncan, and John Burns, this podcast tells all on how you can invest in real estate the smart way.
Plus, you'll also get actionable tips on how you can strategically acquire and sell assets, handle your portfolio, finance your investments, and more. New episodes premiere weekly so make sure you don't miss any!
Have a real estate podcast you love listening to? Make sure to tell us about it in the comments below.